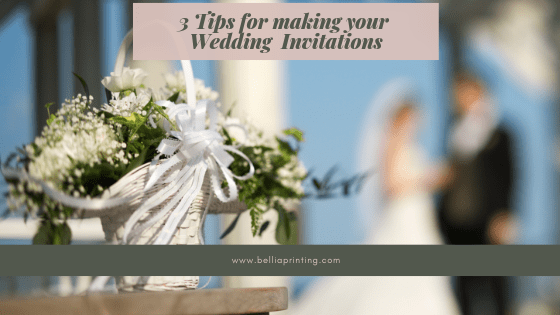 When you are ready to pick out the perfect invitation for your wedding, it can sometimes be as stressful as finding the perfect dress. What will set the tone for your entire wedding is the invitation.  With so many styles, fonts and sizes, the task can seem monumental. Here are three tips that might make things a little easier.
Decide on a wedding theme

.  Before you can even think about your invitation, it is important to figure out what type of wedding you are going to have.  Will it be romantic, urban chic, beachy, or rustic? The invitation will give your guests a chance to get excited and get a sneak peak into what to expect from your wedding.
Choose an experienced printer

. When you choose a high quality printer, they will have templates in which you can choose a design from or they will have a graphic designer on site to custom make your wedding invitation.  Additionally, they have the experience and know-how to help you choose your font and layout. If they are experienced, they know what is trending with weddings, and know what will suit your theme perfectly.
Stay on budget.

.  Wedding invites can add up and are often very expensive.  Setting up a realistic invitation budget is necessary. When determining your budget, you will need to consider quantity, embellishments, paper quality, envelopes and more.  
At Bella Print and Design, our experienced staff has been helping customers for over 4 decades.  We understand that the details of your wedding day or are important and we know what it takes to create, print and deliver a package that will make your day memorable.   Call us today for a free quote!