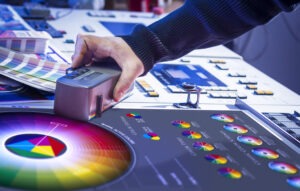 Bellia Print, Design & Mail is your one stop solution for Mercer County printing companies! Our facility is located not far away in Woodbury, and our staff of professionals provides high quality print products and mailing campaigns for all of South Jersey. We create print products for residents, businesses and non-profits alike. The Bellia family has been serving the region for over 40 years, and through it all, we've always been dedicated to full customer satisfaction.
Do you need to send invitations to your wedding or bar mitzvah? Do you need promotional materials for a trade show? Do you want to send out flyers to make a neighborhood aware of your spec
ial event? Whatever your print and design needs, we can do it for you, from business cards to event tickets and everything in between. If you own a company planning a marketing campaign, we can create materials using your existing logo and brand, or design a bold new look for you.
We don't stop at creating the ideal print materials to get your message across…we help you get it to the right people too. If you own a business or a non-profit, we can help you start a mail marketing campaign that works with your mailing list to target the high value prospects and leave out those less interested or who have moved. We'll customize your message accordingly for recipients, and help you to grow your customer base through direct mail, EDDM, and/or bulk mail campaigns.
Our Mercer County Printing Services
Our staff has the know-how and equipment to design all sorts of dazzling print materials, including:
Announcements
Blueprints
Business Cards
Flyers
Funeral Tributes
Invitations
Invoices
Legal Documents
Presentations (With Folders)
Posters
Tickets
Training Manuals
Whatever you need to promote your message and your marketing, let Bellia be the answer to your search for Mercer County printing companies. Reach out to us using the form below, or click here to request a quote. We're looking forward to making your beautiful print messages happen for you!
By the way, we know you're busy…why not save the trip and order what you need through our online ordering? We'll send you your posters, business cards, flyers, and more with the design you choose, and you can even upload your images for us to place on your print products. Place your order in just minutes and we'll send the package directly to you, without your disrupting your day to make the trip!