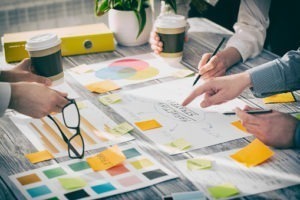 Are you looking for the top choice in Gloucester County graphic designers? Your search ends here at Bellia Print & Design. We are a family owned South Jersey company that has been serving the needs of businesses in South Jersey for over 30 years and three generations. Our office is conveniently and centrally located in Woodbury, NJ. Our mission is to provide our customers with high quality print media and exceptional customer service at a fair price.
Whether you are starting a mail order campaign, entering your business in a trade show, or sending invitations to an event, of course you want your materials to stand out from the rest…using bold colors and eye-catching designs that will get your prospects' attention. Leave it to the professionals that have been doing it for years!
Our Gloucester County Graphic Design Services
Listed here are just a few of the services we provide as Gloucester County graphic designers:
Graphic Design. Our talented team of Gloucester County graphic designers work directly with you to create a bold, eye-catching design that communicates your message as you've intended. We work with all the latest digital design software such as Adobe Photoshop, InDesign, and Illustrator.
Printing. We provide a variety of print services for both personal and business needs. Need to send an announcement of a newborn child or an invitation to a wedding? How about flyers and brochures for your business? Bellia can provide blueprints, direct mail materials, posters, business cards with a top notch professional-looking design.
Mailing Services. We can use our bulk mail permit to maximize your direct mail and reach the maximum number of targeted recipients at a minimum price. Whether you're sending for profit or non-profit mailings, we'll assist you with variable data and customized lists to get the message to your audience.
Events. Bellia provides print services for place cards, prayer cards, and personalized announcements. We understand the emotional value of this day and help to make it memorable with custom invitations on high quality finished paper.
To see more, have a look around this website and see how we can serve your individual print & design needs. When you're ready to have your message designed colorfully and boldly by our professional team, contact us today and request a quote. We look forward to helping your message stand out!
Save