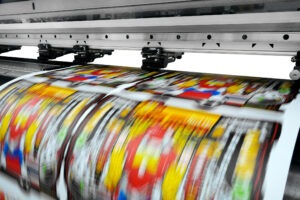 Do you need an effective print marketing campaign for your business or non-profit? Does your new business need official documents and stationery? Interested in sending fancy invitations for your event? Bellia Print & Design is the solution to your search for printers in National Park, NJ! We're located just around the corner from you in Woodbury, and we can handle all of your print needs…from designing and printing beautiful materials to getting the most out of your mailing campaigns.
The Bellia family business got started back in 1973, supplying for the office needs of small businesses throughout the area. Through the years and thanks to our loyal customer base, we've grown to become the top digital design company in the region, and we now supply print and marketing materials to businesses and non-profits of all sizes. We're still today dedicated to top notch customer service, and effectively serving local businesses and residents.
Our National Park Printers' Services
We can provide all of the materials and direction for your print marketing, including:
Print Materials. Whether you need business cards or posters for your next trade show, or you need flyers and postcards for your mailings, or you need stunning invitations for your upcoming event, Bellia can get the job done for you. We can create your print materials in the size, style, and paper type that you need, and we can tailor your order for quick turnaround. We can do it all when it comes to printed materials…view our full list of print services here!
Mail Marketing. Not sure where to start with your campaign by mail? Interested in finding and reaching out to donors for a funding drive? Looking to keep in touch with your customers that have moved? The staff at Bellia can help you tailor your campaign for maximum impact and help you reach your best prospects. In addition, with our relationship with the U.S. Post Office, we can help you find customers and donors that have moved, and keep your postage rates low.
Graphic Design. Your company's look and logo matters…leave your print marketing designs to our professionals! Our graphic design team can help you make the best use of color and shade for a bold, eye-catching look for your print materials. Our staff uses the latest in design software and techniques, and we'll help you create a look your customers and prospects will love.
Let Bellia handle all of your print marketing needs…see why we're the obvious choice for printers in National Park! Contact us today to tell us what you need, or click here to get a price. We're looking forward to providing you services that will grow your business!
Want to save yourself a trip to our facility? Try out our online ordering service! It's simple…just upload your own design or request assistance from one of our design professionals, and order your flyers, postcards, posters, business cards and more. Your order will be conveniently shipped to you, without having to disrupt your day making the trip. Give our online ordering a try here today!