Prayer cards Turn outstanding moments in people's lives into lasting impressions by producing beautiful memorial keepsakes.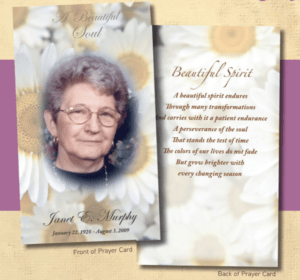 The tradition of memorial prayer cards and other keepsakes dates back to the mid 1800's. With their beautiful art and expressions, memorials have become wonderful ways to pay tribute to the deceased. Today, inspiring words, elegant design and high technology makes it easy and affordable for everyone to create beautiful and joyful memorials for their loved one.
Our Memorial prayer cards actual size is 2.5" x 4.25" and includes one photo on the front. It also includes the person's name, date of birth and date of passing. There is a space for wording on the back of the memorial prayer cards. We have numerous poems, prayers, scriptures, songs, and catalog quotations to choose from.
For more information on creating a a prayer card call us today to speak with one of our customer service representatives!  Or Click here to Request a Quote.