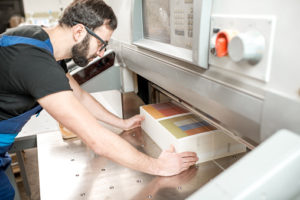 For businesses and residents seeking South Jersey digital printers, Bellia Print & Design is your full service solution. We provide award-winning and affordable digital printing and graphic design from our convenient office in Woodbury. The Bellia family has been serving South Jersey businesses for over 40 years, and we remain dedicated to customer satisfaction.
At Bellia Print & Design, we maintain state of the art equipment and employ talented designers to help you get your message out in a beautiful, eye-catching way. Whether you need to print brochures, invitations, announcements, promotional materials or any other type of design, we can meet and exceed your print needs. We keep our equipment in house to closely monitor print quality, and we can work with any size project and ensure quick turnaround times.
Our South Jersey digital printers service includes:
Printing. Everything from posters to business cards, large or small orders. Bellia's team will provide you with top quality materials designed by our professionals.
Mailings. Let us send your message to the maximum number of addresses affordably using our bulk mail permit. And we'll manage your list effectively to reach interested prospects.
Graphic Design. Leave your print design to our professionals…our creative team of graphic design experts are skilled in brand name software, and can help you update an existing design or create an entirely new one.
Events. We'll help you create a memorable, striking event invitation that becomes a part of the memories of the day. We create invitations for weddings, bar mitzvahs, graduations and much more.
We invite you to find out more about our services on this website, including testimonials from our happy customers. When you'd like to know more about how our South Jersey offices we can meet your digital print needs, contact us today to request a quote. We look forward to helping your message shine!
Don't have the time to make a trip to our facility in Woodbury? Save yourself the trip with our online ordering! Send us your images and request your business cards, flyers, postcards and much more…we'll get them created and sent to you quickly. Our online ordering is a great time-saver, and you still get the quality print products you can always expect from us!