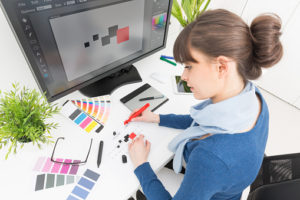 Welcome to the website of Bellia Print & Design – when you're looking for Woodbury graphic designers that know how to bring a personal and artistic touch to your print media needs, Bellia should be your destination. We are conveniently located right here in town, we're family owned and operated, and the Bellia family has been providing exceptional service to South Jersey residents and businesses for over three decades and three generations. We'll get your message out in a colorful and eye-catching way, and at a fair price!
When you've decided to invest in printed materials for your mailing campaign or trade show entry, of course you're going to want a bold, eye-catching look for your materials – something that uses color and contrast to get your prospects' attention. Leave it to the professionals at Bellia – we've been serving businesses throughout the region for over 40 years!
Our Woodbury Graphic Design Services
Here are just a few of the many services our Woodbury graphic designers offer:
Graphic Design Needs. The Woodbury graphic designers at Bellia are experienced professionals who will work with you to ensure that your message gets out in a bold and beautiful way. Our talented team is proficient with all of the top publishing software, including Photoshop, InDesign and Acrobat Professional among others.
Printing. Our designers can create print media for both your personal and business needs. Whether you're sending out wedding invitations, announcing a new birth, or creating flyers, brochures or postcards for your business, we'll give your print output a professional and colorful design. Bellia can design business cards, print mail materials, posters, and much more.
Mailings. Our bulk mail permit enables us to reach the largest number of your targeted prospects at the smallest price. We'll take care of customizing your mailing lists and variable data so that your promotional materials reach an interested audience.
Events. We can take care of your event announcement or invitation needs, including wedding invitations and gatherings for graduations or moving. We know how important these days are to you, and we will help make the occasions memorable with customized invitations.
That's just a small sampling of the many services Bellia provides…we hope you'll have a look around this website and see some examples of our finished work. When you're ready to have a top design team create a quality, memorable message for your friends, family, or customers, contact us and request a quote. Bellia Printing is ready to help your message shine!