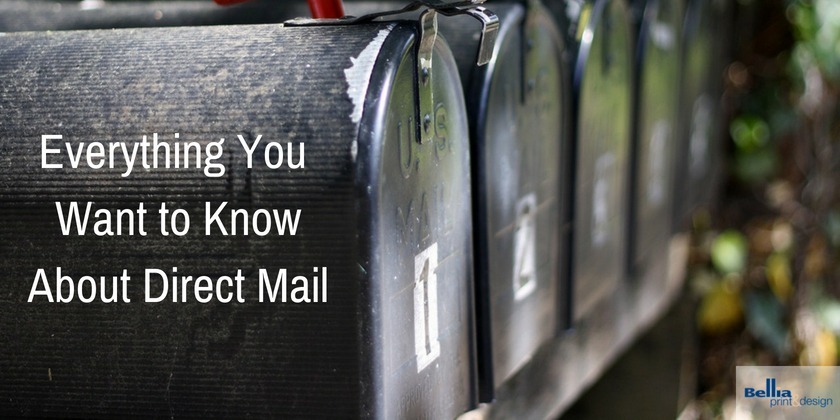 Thinking about utilizing a direct mail campaign as part of your marketing efforts? You should! According to the Data & Marketing Association Fact Book, direct mail customer response rates increased by 43% year-over-year, and prospect rates rose by 190% in 2016.  Over 70% of Americans say they prefer physical mail to email because it's more personal.
Here's everything you want to know about Direct Mail:
What kind of response can I expect?
Response will vary depending on who you are mailing, the timing of your mailing, as well as the effectiveness of your mail design.  If you are mailing to your own customer base you can expect better returns. According to the DMA's 2016 statistics, direct mail achieved a 5.3% response rate with a house list, and a 2.9% response rate with a prospect list.
What is the average ROI on Direct Mail campaigns?
Between 18 and 20%
Do customers open their Direct Mail?
The answer is YES!
80-90% of direct mail gets opened vs. 20-30% of emails
56% trust print marketing more than any other type of marketing
54% of consumers surveyed said they want to receive mail from brands they are interested in
How much will Direct Mail cost?
The cost varies based on each campaign but will typically include:
Postage (Bellia will help you save money by capturing bulk mail discounts)
Printing costs of the mailer
Design costs if needed
Cost to purchase targeted lists
Administrative costs including mailing services to sort, verify and delivery mail campaign.
Tips for enhancing your Direct Mail campaign:
Use a targeted list to save time and money while increasing your ROI
Personalize your mail piece with variable data
Create new, engaging pieces with colorful, standout designs
Add incentives and value with a promotion, discount, rebate or sale
Use a quality printer! Bellia Print & Design has years of experience in direct mail campaigns, and a talented graphic design team to create professional and eye-catching mailers.
We'd love to talk to you regarding how we can help you with your direct mail campaign. Please contact us today at (856) 845-2234 to speak directly with a sales representative, or fill out a quote request today!
SOURCES:
https://smallbiztrends.com/2017/01/direct-mail-marketing-statistics.html
https://www.targetmarketingmag.com/post/creative-direct-mail-2018/
https://thedma.org/marketing-insights/marketing-statistics/direct-mail-statistics/