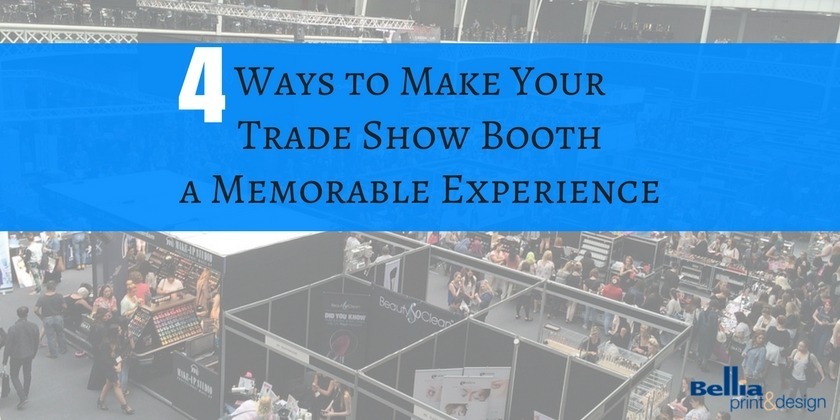 With so many companies vying for the attention of potential clients and customers, it's easy to blend in. At Bellia Print & Design we can help you make your Trade Show Booth Memorable with eye-catching signage and standout promotional materials, but once you have your customers inside, you'll want to make it a memorable experience. Here's what you can do:
Engage with people. Find out how their day is going, where they are from, what the highlights of the tradeshow have been for them so far, etc. Not only will the interaction warm people up, but you'll get inside info on what your competitors are doing to win them over.
Provide refreshments. They've been walking around from vendor to vendor. Most likely they will appreciate a drink and/or something to eat. Setting up a small table with coffee, tea, water and snacks is easy and crowd pleasing.
Set up a fun photo booth. Everyone can use a little fun. Include some funny props, and make sure to have them hold up signage with your company hashtag to make the rounds on social media.
Give away swag. A good promotional piece goes a long way. Make sure yours is branded with your company logo in a spot that can't be missed.
We'd love to help you with your tradeshow materials. Bellia Print & Design offers high quality trade show materials such as architectural signage, modular displays, posters, custom printed retractable banners, as well as custom printed marketing materials, that will truly reflect your brand. Tradeshow graphics can be used beyond the convention as well. Our design team can create unique, eye-catching graphics for your displays or you can send us your own artwork. For more information visit our website or contact us at 856.537.2383.